Stay up to date with the most current news from our school by following our Instagram and Twitter social media accounts.
You can also check out our YouTube, TikTok and Facebook see some of the amazing things happing at J. Clarke Richardson
---
Messages to Parents/Guardians
Letter to In-Person Families RE April Break
April 9, 2021
Subject Line: Update from the DDSB
Dear parents/guardians,
The Durham District School Board would like to thank you for continuing to follow the guidance of public health officials to limit the spread of COVID-19.
The Ministry of Education has communicated that unless the Durham Region Health Department closes schools in the District, they will remain open during the Provincial State of Emergency and Stay-at-Home Order. The April break will continue as planned, from Monday, April 12 to Friday, April 16, and schools will reopen for in-person learning on Monday, April 19. School staff will continue to prioritize the mental health and well-being of students and are understanding of the challenges that families may be going through due to the pandemic.
In light of the recently announced measures, it is more important than ever that we continue to follow health advice over the April break to do our part to help reduce the number of COVID-19 cases and keep schools open, for in-person student learning.
At this critical point in the pandemic, the following public health measures are crucial to help prevent and limit the spread of COVID-19:
Socialize with your own household.
Stay home and get tested for COVID-19 if you feel ill.
Screen every day for COVID-19 symptoms before attending school or child care (you can use the COVID-19 School and Child Care Screening Tool to help you with this).
Practice good hand hygiene habits, masking, and physical distancing.
Refer to Ontario.ca/covidresponse to learn what public health measures are in place in our community.
Refrain from travelling.
For the week of April 12 to 18, pharmacies that currently offer testing and assessment centres across the province will accept appointments from students and education staff for asymptomatic testing. The Ministry of Education encourages parents and guardians to take advantage of this testing capacity to have their children tested to support a safe return to school on Monday, April 19. Children attending childcare, and childcare staff, will also be eligible to access this testing. We have included more information on the variety of COVID-19 testing opportunities available to you in this document.
We sincerely hope your children are able to enjoy some relaxation during the much-needed April break.
As a reminder, before coming back to school on Monday, April 19, you must screen your child(ren) for COVID-19 symptoms. If your child or anyone in your household is ill, please keep your child(ren) at home and follow the guidance in the school screener.
By following public health advice, we can help keep our community safer and continue to support in-person learning in our school.
Thank you,
Durham District School Board
Principal Message: March 29, 2021 - Quad 4 schedule for Grade 12 classes
To Richardson Parents/Students/Families/Community Members:
Each year, we know that our school community looks forward to school traditions and especially graduation ceremonies. In recognition of this, the board has revised the Quadmester 4 calendar to accommodate a June commencement for our graduates. We have attached a revised Quadmester 4 schedule that will apply for grade 12 classes only. Grade 12 classes will be learning virtually on Thursday May 27 and every Friday beginning on April 30. There will be no morning in person cohorts on these days and all grade 12 students will be expected to sign in to their classes virtually for these morning classes. This change in the schedule means that these students will finish their courses on June 18, 2021.
This schedule continues to prioritize student-teacher interactions and does not include any exam days. This will allow opportunities for students to complete their course requirements and to participate in any required remedial opportunities. Teachers of grade 12 students in non-grade 12 classes will also work with individual students to ensure that any assessments are completed in time to allow for the completion of promotion meetings in preparation for graduation. Students in all other grades will continue to follow the existing schedule.
At this early stage of planning for a June commencement, we are not able to share specific information on the format and date. Please know that we will be required to follow the guidance of public health officials and will be ensuring that the health and safety of all participants are prioritized.
Thank you for your understanding and we look forward to sharing more details on our planning for a June commencement as information becomes available. Please do not hesitate to reach out with any questions related to this change in the Quadmester 4 schedule.
Sincerely,
J. Maharaj
Principal
J. Clarke Richardson Collegiate
Principal Message: February 24, 2021 - School Calendar
February 24, 2021
Message to Families RE: Updated Secondary School Year Calendars
Due to the province-wide postponement of March Break, the regular and modified secondary school cohort calendars for 2020-21 have been updated. Quadmester 4 is now scheduled to begin on Tuesday, April 20 with cohort B attending course 3 in-person that day.
Students should verify their cohort letter (A or B) by downloading the quadmester calendars listed below to confirm the dates they need to attend class in-person.
Be Safe. Be well.
J. Maharaj
Principal
J. Clarke Richardson Collegiate
Principal Message: Friday February 11, 2021 - RE: MARCH BREAK
Message to J. Clarke Richardson Collegiate Families RE March Break Postponed
February 11, 2021
Subject Line: March Break Postponed Until April 12th
Dear Parents/Guardians,
Earlier today, the Minister of Education announced that the March break scheduled for the week of March 15th, 2021 has been postponed and will now take place during the week of April 12th, 2021. The decision was made on the advice of Ontario's Chief Medical Officer of Health and more information on this decision can be found in this Ministry of Education press release. Please note that the regularly scheduled board holiday on Friday, March 12, 2021 will still go ahead as scheduled.
This change also applies to students learning virtually through DDSB@Home to align with the break for in-person students.
We will be communicating with you next week about any minor adjustments that may need to be made to the school year calendar as a result of this announcement.
With March break being postponed, it highlights the importance of everyone following the direction of public health officials by avoiding gatherings outside of your household, wearing a mask, washing your hands and avoiding non-essential travel as much as possible.
We are also including a couple of other items in this update that may be of interest to you below.
Quadmester Two Report Cards
We have started to distribute Quadmester Two report cards today through e-mail. Families that do not have an email registered with the DDSB, will receive a hardcopy of their child(ren)'s report card by mail after Wednesday, February 17th. We ask that if you do not receive the report card within 7-10 business days to contact the school office.
Webinar on Talking to your Children about Anti-Black Racism on Wednesday, February 24
On Wednesday, February 24 from 7:00 pm to 9:00 pm, the DDSB Parent Involvement Committee will host a parent engagement webinar with keynote speaker Bee Quammie. Bee is an acclaimed public speaker, writer, social media influencer and DDSB parent. In this series, Bee will guide attendees through talking to children about anti-Black racism and provide practical tips for how people can make a difference right now. There will also be an opportunity for a Q&A. To register please visit: https://bit.ly/ParentEngagementSeries.
On behalf of our school team, we would like to thank you for your continued support throughout the COVID-19 pandemic and the province-wide changes that all of us are adapting to. Please continue to stay safe and be well. Should you have any questions or require support, please do not hesitate to reach out to our school team.
Sincerely,
J. Maharaj
Principal
J. Clarke Richardson Collegiate
Principal Message: Friday February 5, 2021
To: Richardson Families
From: J. Maharaj, Principal
Date: February 5, 2021
Re: School Materials Returns and Student Self-Screening
Hello Richardson Families:
We are excited for the return to in-person learning on Monday, February 8, 2021. This message is to outline the procedures that students will follow for Returning School Materials and completing their Daily Self-Screening for COVID-19.
Returning School Materials:
Students will be expected to return all borrowed school materials (textbooks, library books, instruments, etc.) from their Quadmester 1 and 2 classes on Monday, February 8 or on Tuesday, February 9 (depending on which day they come to school for in-person learning).
Students will be given labels for these materials during their first period class and will then return them to the appropriate department.
Students that have enrolled at the DDSB Virtual High School are asked to contact the Richardson Office (905-619-9571) to make an appointment to return their school materials.
Student Self Screening for COVID-19:
All Richardson students are required to complete mandatory self-screening for COVID-19 each morning before leaving for school. This is a critical step in order to ensure that students and staff are protected and must be done with the Government of Ontario's easy to use COVID-19 school screening tool at https://covid-19.ontario.ca/school-screening/.
When students arrive at school, school staff will be confirming with each student that they have completed the mandatory self screening when the student arrives. If a student has not completed the screening, they will be directed to do so on their device. Paper copies will also be available for the student to complete.
If your child does not pass the screening before coming to school, they must stay at home and follow the directions outlined in the self-screening tool in order to keep everyone safe.
If your child comes to school and does not pass the screening, they will be required to go to the health room and parents/guardians will be notified that the child needs to return home.
Please contact the Main Office if you have any questions or concerns. Be safe and be well.
Principal Message: Monday January 11, 2021
Principal Message to Families on Remote Learning
---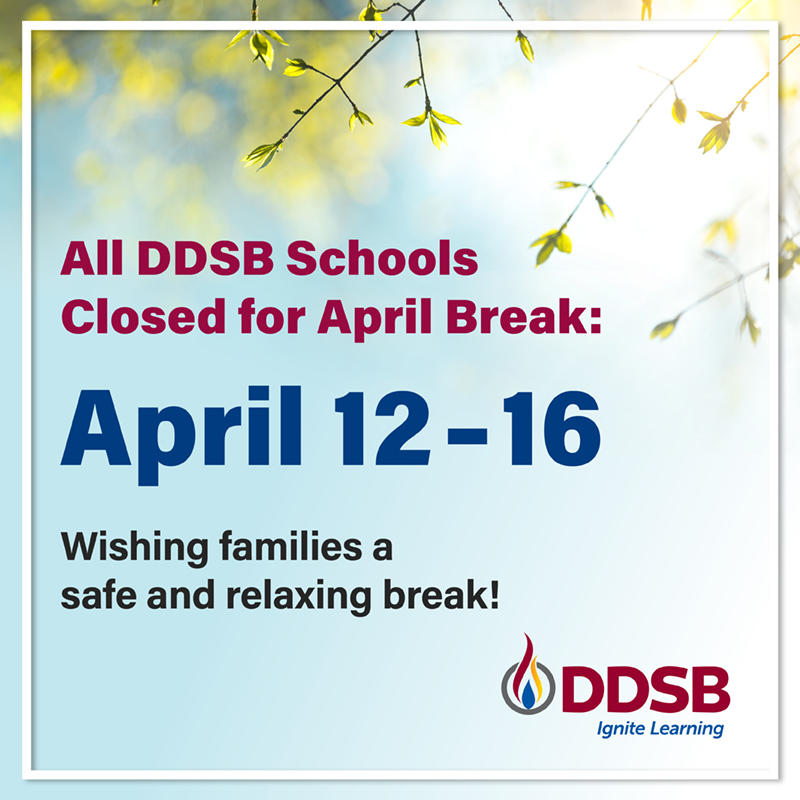 ---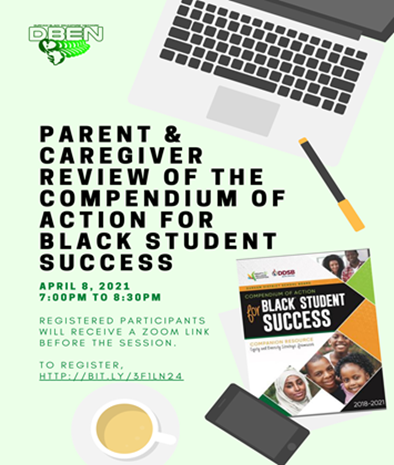 Please join DBEN's Parent Advisory Circle on Thursday April 8, 7:00 – 8:30 PM to share your voice.
We look forward to connecting with you!
This session is intended for parents and caregivers of Black students attending DDSB elementary and secondary schools.
This is an opportunity to network, learn more about Action Items in this important document, and contribute your voice to the review of the DDSB Compendium of Action for Black Student Success.
To register: http://bit.ly/3f1ln24
Registration will close on Thursday April 8 at 4:00 PM.
---
Anti-Black Racism Well-Being Toolkit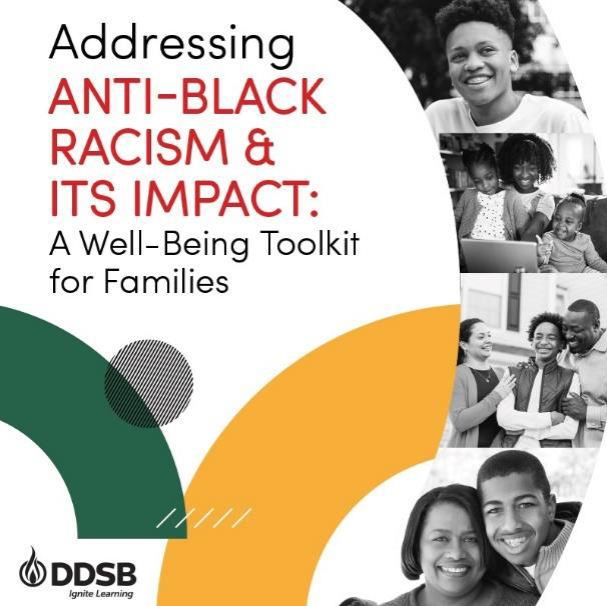 The @DurhamDSB Anti-Black Racism Well-Being Toolkit provides students and families with lots of engaging resources that help everyone to understand the impact of anti-Black racism. Check it out at https://bit.ly/3bkCJn6 #DDSBWellBeing #DDSBEngagement
---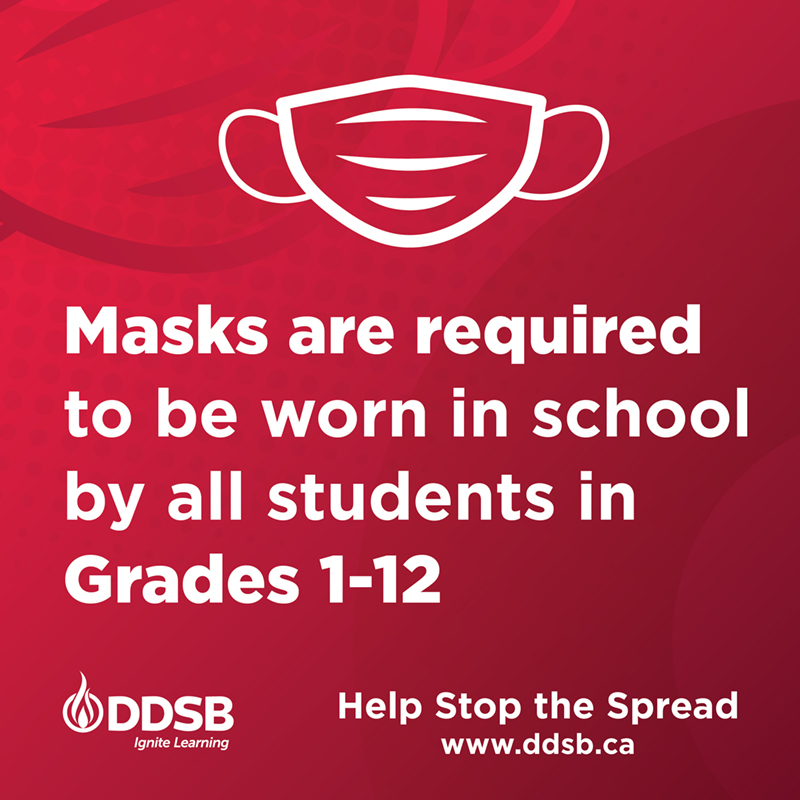 Reminder: Masks are required to be worn by students in Grades 1-12 while at school. This includes while outside when physical distancing cannot be maintained. Kindergarten students are strongly encouraged to wear a mask. Learn more at http://bit.ly/3cFHvOh #DDSBWellBeing
---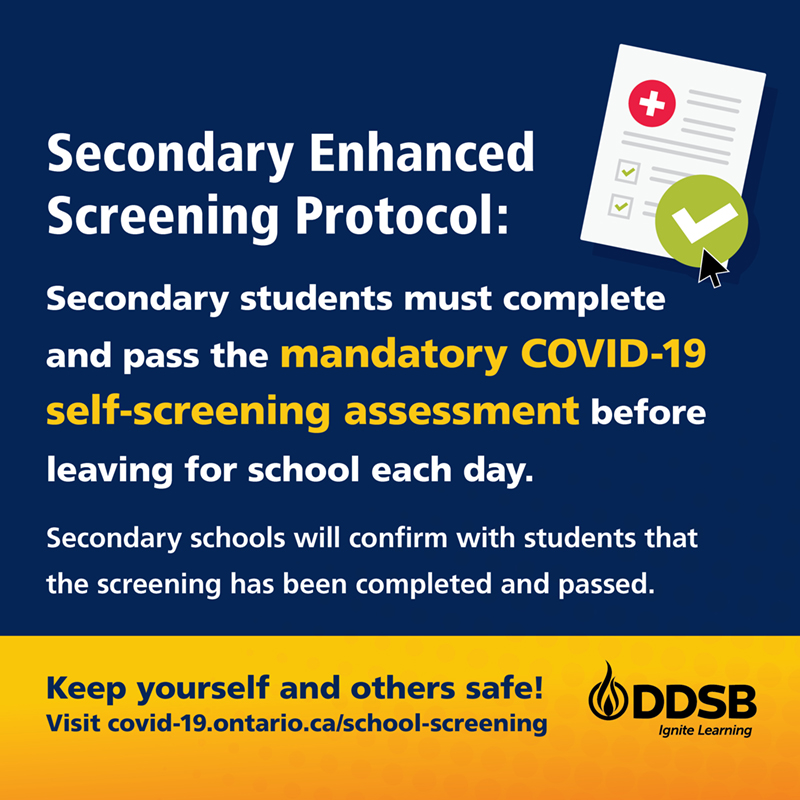 Reminder: Secondary students must complete and pass the mandatory self-screening for COVID-19 before coming to school. School staff will confirm with students that the screening has been completed and passed. Visit https://covid-19.ontario.ca/school-screening/
---
211 – Community Supports for the School Year
Do you need information about financial assistance, mental health support, employment support, childcare, housing, food, clothing and shelter?
Find help at durham.211central.ca or call/chat/text/email 2-1-1.
---
Tips to avoiding Cyber Fraud
Fraudsters contact students via social media (primarily Snap Chat or Instagram).
They may make a friend request.
They may offer a job.
The fraudsters make a pitch for the student to make easy money.
They offer the students a percentage of a e-transfer if the student will change it to bitcoins for them or gift cards.
2. The money is then e-transferred to the student; however, the e-transfer does not come from the fraudster, but a third party, who thinks they are buying something and was given the students information to make the e-transfer to.
When the person does not get the product and it is reported to the police, it is traced back to the student, who must repay the money and could face charges.
The fraudster is long gone with the untraceable bitcoins or gift cards.

They send the student a cheque and ask for a percentage back in bitcoins for them or gift cards
· The student deposits it via online banking or a bank machine and it take several days to be identified as NSF, by which time the student has already withdrawn the cash.
The bank then takes the money out of the students account.
The fraudster is long gone with the untraceable bitcoins or gift cards.